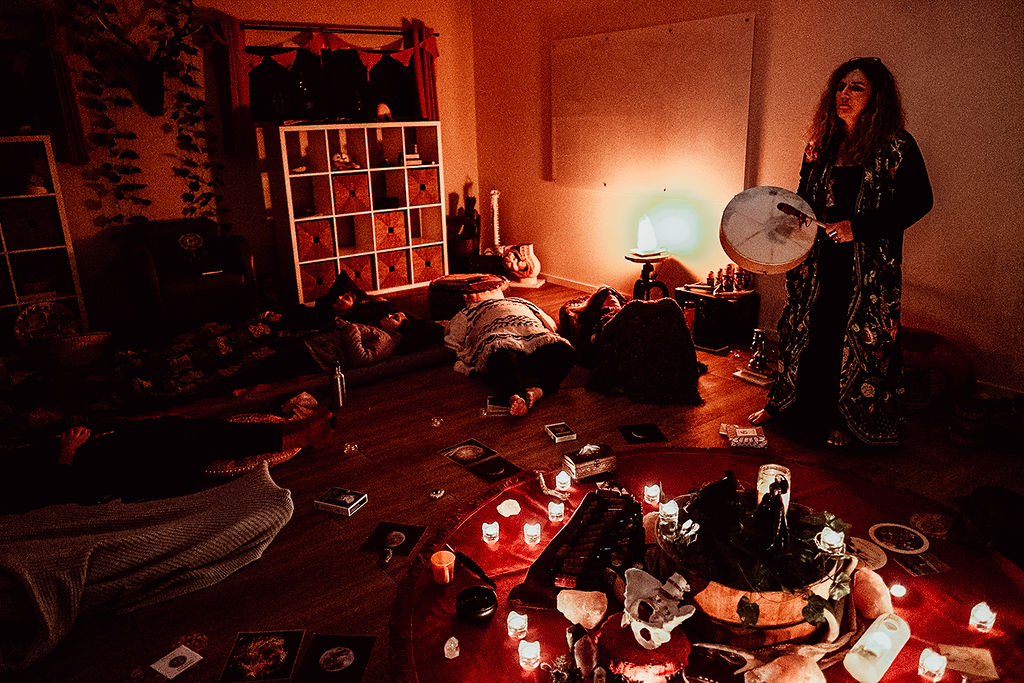 Beguiling Beltane Moon Temple
12th October 2019
 3.30pm - 7.30pm
Cost $69
Where: Clear Mountain, Brisbane Northside
Bring a journal and a plate of food to share
We feel the drum beat pulsing in our bodies,
We feel the heat from the cauldron fire on our face warming us, a slow burn until.
We feel the call of the magic starting to ignite and move, undulating through us.
We feel a vague memory, and imprint of something more.
It's time, my witches to access the immense fertile energy of Beltane and bring it into all aspects of your life,
Harness the great potential within you. Step in, open up, Reclaim!
We gather in circle to honour the ways of old, to honour ourselves and the women who were witches,
to connect to each other, to hold space, to embrace, to laugh, to learn.
Under the ripeness of the Full Moon and beguiling Beltane unlock your innate potential.
At the peak of Spring, as we welcome in Summer, all of life is bursting with potent fertility.
We will undertake rituals and ceremonies to embrace the witch within allowing you to gain insight into your unfurling potency and how to use it to call in your dreams and intentions.
Afterwards we will celebrate with food, laughs and heartfelt connection under grandmother tree and the stars.
"I had such an amazing night at Danielle's Moon Temple. She held the space so beautifully, allowing each and every women to go on their own special journey and receive all they needed to receive from our time in circle together. There is nothing more special than allowing ourselves to surrender into the energy of other women and to be held when we need it most, and Danielle's temple is not only stunningly beautiful, but the energy there is magical. My advice... get along to anything that you can there! You won't be disappointed."
Carlee Modra
"What an incredible night – such a moving experience for me! Thank you, thank you, Dr Danielle, for creating a sacred woman space like this. The Moon Temple is a place where we, as modern women, can connect with our roots and be reminded of our power to transform through cycles and community.  I loved the fluid nature of storytelling, ritual, sound healing and shamanic drumming, as it created a safe space to connect, grow and heal with the divine feminine. I look forward to many more!"  
Belinda G